are you going tomorrow night then I'll pick you out then go pick some stuff up tomorrow and stuff then go to moms moms then pick some food 🍱 I'll get food 🍱 tomorrow at moms then pick some stuff stuff then go to moms Welcome to the Donkey Hodie Wiki!
This Wiki is about the PBS Kids show called Donkey Hodie which premiered Monday May 3, 2021.
We're a collaborative community website about Donkey Hodie that anyone, including you, can build and expand. Wikis like this one depend on readers getting involved and adding content. Click the "ADD NEW PAGE" or "EDIT" button at the top of any page to get started.
Featured Article
[
]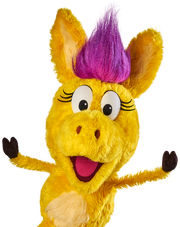 Donkey Hodie wakes up each morning with her ears and magenta mane perked up, her eyes wide open, and her determination dialed up to 11. She's a curious, sincere, resilient, and charming young go-getter who is beloved by her neighbors in Someplace Else because she is something else. She often bursts out of her windmill with a fresh goal for the day with a "Hee-Haw!"
Need help building out this community?
You can also be part of the larger Fandom family of communities. Visit Fandom's Community Central!
Community Founders: Write a good and paragraph-length description for your welcome section about your topic. Let your readers know what your topic is about and add some general information about it. Then you should visit the admin dashboard for more tips.